Turkey in Panic to Get E.U. Visa Free Travel as Russia Seals Borders
(conservativepapers) Turkey is in a panic over the migrant deal struck with the European Union as Russia is sealing 
the border between Turkey and Syria.  Turkey is now demanding visa rules for Turks to be relaxed within the next two months, 
Turkish Prime Minister Ahmet Davutoglu said Tuesday.  Sounding a warning over a controversial deal which has stemmed much of 
the human tide across the Aegean Sea.
Russian President Vladimir Putin has ordered Russian troops inside Syria, to seal the Syrian border with Turkey. This could mean  no more migrants, and no need for a Turkish deal, Turkey blackmailed Europe to give Visa free travel to Muslim Turks in exchange for limiting high risk migration from terrorist countries into Europe.
Turkey has been profiting by allowing oil, stolen from Syria by ISIS terrorists, to be smuggled into Turkey via convoys of oil tanker trucks.  Once the tankers arrive in Turkey, the oil is slightly refined, re-packaged to look legitimate, then sold cheap on the open market.  This theft and smuggling nets ISIS about $100 Million per month, which funds its terror operations.  Of course, Turkish officials get their palms greased as well, for allowing the smuggling to take place.  Chief among those getting their beak wet is Turkish President Recypt Erdogan and his sons.
Turkey Is also Confiscating Christian Churches And Will Be Demolishing Them. Antichrist Empire Of Turkey Is Also Planning To Slaughter All Christians as ISIS does.
In addition to now cutting off ISIS money – and Turkey's illicit profits — this border closure will stop the flow of weapons into Syria.  Weapons supplied paid for by Saudi Arabia, Qatar, Bahrain and supplied to ISIS and Al Qaida inside Syria via Turkey, designed to overthrow the Syrian President Bashar Al Assad.
This move by Putin amounts to "check-mate" against the coalition that has been trying for four years to overthrow the government of Syria.  That coalition includes the Obama ran USA.
Turkey no desperate to overrun the Europe Union with barbaric Muslim Turks after they failed in 1529 that was the the latest attempt by the Turkish Ottoman Empire to overtake Europe.
Comments carried by the Anadolu Agency quoted the prime minister as saying that if Brussels did not hold up its end of the bargain by June then "no one would expect Turkey to adhere its commitments."
Davutoglu sounded the warning on his way to Strasbourg, France where he addressed lawmakers at the European Council on Tuesday.
Meanwhile, Turkish President Recep Tayyip Erdogan rejected a report by the European Union's parliament that criticized democratic shortfalls in the country, and warned that the "EU needs Turkey more than Turkey needs the EU."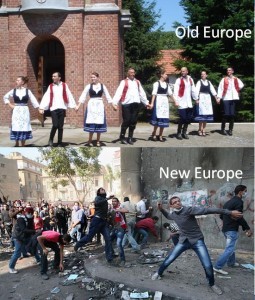 Speaking to local official in Turkey Erdogan disputed the report, endorsed by the European Parliament last week, which criticized the Turkish government's moves to muzzle freedom of expression and reported a "regression" in its democracy.
Russia's unexpected move comes on the heels of a negotiated cease-fire which very much calmed fighting throughout Syria.  But in that time of cease fire, vast quantities of weapons and ammunition were shipped into Syria from Turkey, and ISIS has now escalated its fighting, re-taking portions of Syria previously liberated by Syrian and Russian troops.  Rather than fight such battles over again, Putin has ordered the border sealed.
With the border sealed the European Union may not need  a deal with turkey anymore as the migrants from the middle east will not be allowed into Turkey.
Crossings from Turkey into Greece were down to 60 or even sometimes zero people per day.
The International Organization for Migration says Greece has seen fewer than 70 arrivals per day in the past 10 days, down from nearly 1,500 of arrivals per day before a deal was struck.
Violent high risk Muslim Migrants in Greece tried to violently tear down the razor wire fence between Macedonia and Greece last week but were blocked by Macedonian forces and dozens were wounded when Macedonian police fired teargas and rubber bullets at them when they tried to force their way through to Macedonia.
This article is republished with permission from our friends at The Conservative Papers.
---
Utah Standard News depends on the support of readers like you.
Good Journalism requires time, expertise, passion and money. We know you appreciate the coverage here. Please help us to continue as an alternative news website by becoming a subscriber or making a donation. To learn more about our subscription options or make a donation, click here.
To Advertise on UtahStandardNews.com, please contact us at: ed@utahstandardnews.com.
---