Hungary Defiant in the Face of EU Censure
Hungary Defiant in the Face of EU Censure
"We need a new European Commission that is committed to the defense of Europe's borders." — Hungarian Prime Minister Viktor Orbán.
"A few months ago … there was an election in Hungary. The Hungarian people decided what should happen, and during the election campaign we discussed all of the issues — including CEU, the NGOs, and all of the important political issues. And the people decided on these issues. And now the European Parliament is taking upon itself the task of overruling the decision made by the people of Hungary and forcing the Hungarian government to implement what they are attempting to impose on us in place of the people's decision." — Hungarian Prime Minister Viktor Orbán.
"Hungary and the Hungarian people have been convicted because we have proven that migration is not needed and that it can be stopped." — Hungarian Foreign Minister Peter Szijjártó.
"Hungary's decisions are made by the voters in parliamentary elections. What you are claiming is no less than saying that the Hungarian people are not sufficiently capable of being trusted to judge what is in their own interests. You think that you know the needs of the Hungarian people better than the Hungarian people themselves…. This report applies double standards, it is an abuse of power, it oversteps the limits on spheres of competence, and the method of its adoption is a treaty violation." — Hungarian Prime Minister Viktor Orbán.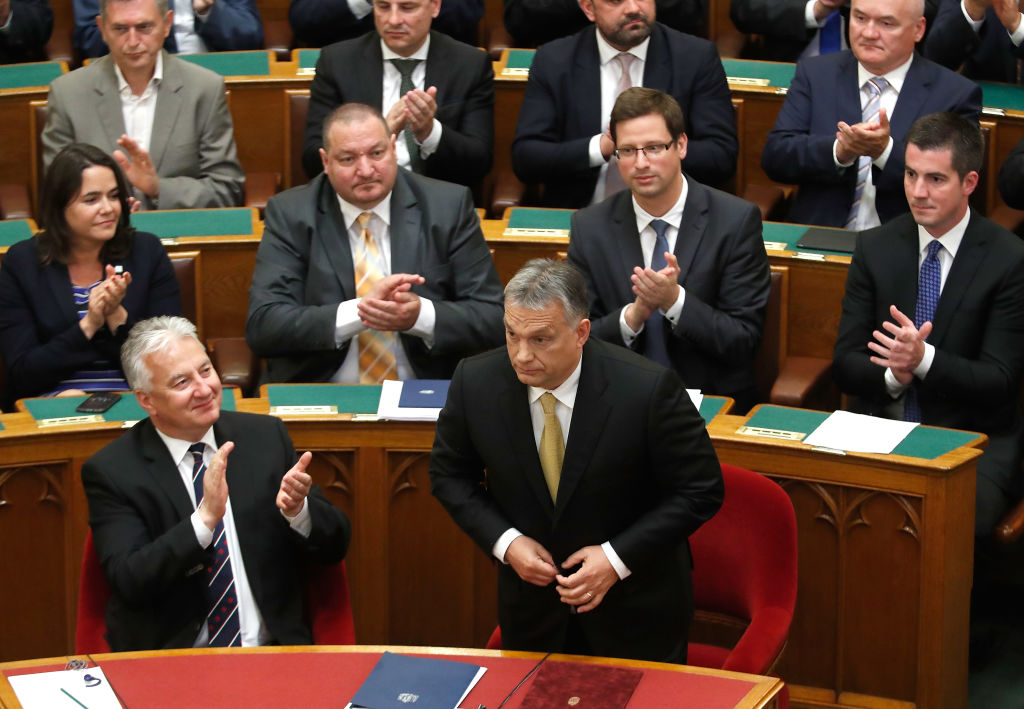 Hungary's Prime Minister Viktor Orbán (standing), recently said: "We need a new European Commission that is committed to the defense of Europe's borders." (Photo by Laszlo Balogh/Getty Images)
The European Parliament has voted to pursue unprecedented disciplinary action against Hungary over alleged breaches of the European Union's "fundamental values." The EU has accused the Hungarian government of attacks against the media, minorities and the rule of law.
Hungarian Prime Minister Viktor Orbán has denied the charges, and said they are a retaliation for his government's refusal to take in migrants from the Muslim world.
The censure represents another salvo in a showdown between pro- and anti-EU forces over populism and nationalism ahead of European Parliament elections in May 2019.
During a session of the European Parliament in Strasbourg on September 12, MEPs voted 448-to-197 — by a margin of more than two-thirds — to trigger Article 7 against Hungary. It was the first time that such parliamentary action has been taken against an EU member state; the move can ultimately lead to Hungary losing its voting rights in EU institutions.
Article 7, sometimes dubbed the "Nuclear Option," threatens sanctions against EU member states deemed to be in violation of the EU's fundamental values, which are defined as "liberty, democracy, respect for human rights and fundamental freedoms, and the rule of law."
Orbán is accused of undermining the independence of Hungary's judiciary and media; waging a legal battle against the Central European University (CEU), founded by the Hungarian-born philanthropist George Soros; mistreating asylum seekers and refugees and introducing a law that makes it a criminal offense for lawyers and activists to help them.
Article 7 is a two-step process that moves from "preventive measures" (Article 7.1) to "punitive measures" (Article 7.2); EU governments will now have to decide whether to impose sanctions. Hungary is likely to escape the most serious sanction of suspending the country's vote in the bloc because that would require unanimity and Poland, which has had its own run-in with the EU, has pledged to protect Orbán.
In January 2018, the European Parliament approved a non-binding resolution urging EU countries to "swiftly determine" whether Poland is breaching EU values over judicial reforms. read more at https://www.gatestoneinstitute.org/12998/hungary-eu-censure
---
Utah Standard News depends on the support of readers like you.
Good Journalism requires time, expertise, passion and money. We know you appreciate the coverage here. Please help us to continue as an alternative news website by becoming a subscriber or making a donation. To learn more about our subscription options or make a donation, click here.
To Advertise on UtahStandardNews.com, please contact us at: ed@utahstandardnews.com.
---