Celebrating one-year anniversary of Hillary's electoral loss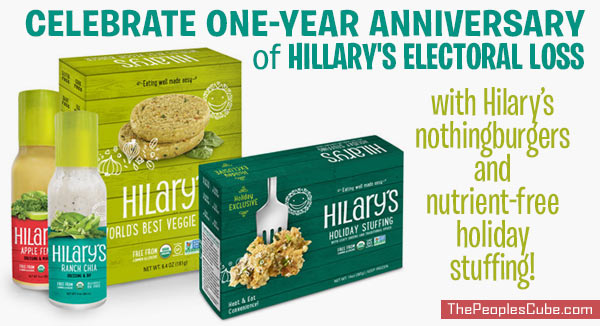 Commemorating the anniversary of the most qualified candidate in history's electoral loss, we recommend that you celebrate it with Party-approved meat-free nothingburgers and stuffing that look, smell, and even taste almost like real food.
And we're not the only ones celebrating. Just for this occasion, Hillary was given 'Democratic Woman of the Year Award' by the Woman's National Democratic Club in recognition of Clinton's specious contributions to American politics and international affairs, as well as the almost life-like appearance of inspiration to women and girls around the world.
Hillary Clinton Given 'Democratic Woman of the Year Award' on Same Day It's Revealed She Rigged the 2016 Democratic Primaries
https://www.youtube.com/watch?v=JT6ReD8T-e0
---
Utah Standard News depends on the support of readers like you.
Good Journalism requires time, expertise, passion and money. We know you appreciate the coverage here. Please help us to continue as an alternative news website by becoming a subscriber or making a donation. To learn more about our subscription options or make a donation, click here.
To Advertise on UtahStandardNews.com, please contact us at: ed@utahstandardnews.com.
---