WATCH: North Korea Blows Up Liaison Office – Threatens To Invade DMZ
By  Ryan Saavedra•Jun 16th, 2020   DailyWire.com
North Korean officials blew up an office building on Tuesday that it used as place to work with South Korean officials, a move that experts say is a significant escalation between the two countries. The move comes after North Korea had threatened to invade the demilitarized zone with its military, and now the South has moved its joint chiefs of staff to a "combat control office."
"South Korean border guards heard an explosion and then saw smoke rising from Kaesong, the North Korean town where the building was located," The New York Times reported. "The building appeared to be blown completely apart in a blast so powerful that windows in nearby buildings were also shattered, according to video footage from a South Korean surveillance camera on the border."
South Korean military footage of the explosion at the inter-Korean office in the border town of Kaesong.

Total destruction by the looks of it…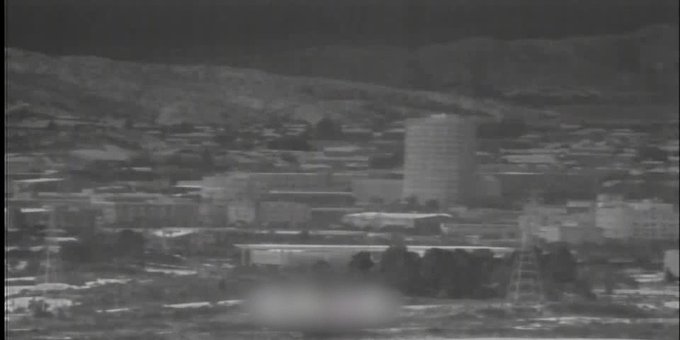 525 Twitter Ads info and privacy 563 people are talking about this
"The destruction of a building meant to facilitate dialogue, paid for by South Korea and sitting on North Korean soil, is highly symbolic. It may mark a turning point in relations between two countries that had committed themselves to 'a new era of peace' fewer than three years ago," CNN reported. "North Korea framed its decision to destroy the liaison office as a retaliatory measure after a group of defectors used balloons to send anti-North Korean leaflets north of the DMZ."
North Korea's official news agency said in a statement:
The north-south joint liaison office was completely ruined on Tuesday. The relevant field of the DPRK put into practice the measure of completely destroying the north-south joint liaison office in the Kaesong Industrial Zone in the wake of cutting off all the communication liaison lines between the north and the south, corresponding to the mindset of the enraged people to surely force human scum and those, who have sheltered the scum, to pay dearly for their crimes. At 14:50, the liaison office was tragically ruined with a terrific explosion.
NK News, an organization that tracks news coming out of North Korea, added: "South Korea's Joint Chiefs of Staff has moved to a 'combat control office,' while the Ministry of National Defense stated it is ready to 'respond strongly' to any military provocations from North Korea."
read more at https://www.dailywire.com/news/watch-north-korea-blows-up-liaison-office-it-shared-with-south-korea-north-threatens-to-invade-dmz-south-goes-to-combat-control-office
---
Utah Standard News depends on the support of readers like you.
Good Journalism requires time, expertise, passion and money. We know you appreciate the coverage here. Please help us to continue as an alternative news website by becoming a subscriber or making a donation. To learn more about our subscription options or make a donation, click here.
To Advertise on UtahStandardNews.com, please contact us at: ed@utahstandardnews.com.
---