Obama claims credit for North and South Korea summit-Satire
Former President Barack Obama has later stated that most of the work in ending hostilities between North and South Korea was the years of diplomatic relations he conducted with North Korea prior to Trump taking office.
Obama shortly followed up with a similar Twitter announcement:
"History was made today when ABBA announced they are finally set to reunite and release new songs for the first time in 35 years. I am honored to have such an important role in ending the hostilities between Agnetha and Frida due to the years of diplomatic negotiations I conducted with them and the music industry prior to Trump taking office."
Former President Obama has added later that Michelle Obama's #BringBackOurUnifiedKorea campaign also played a key role here.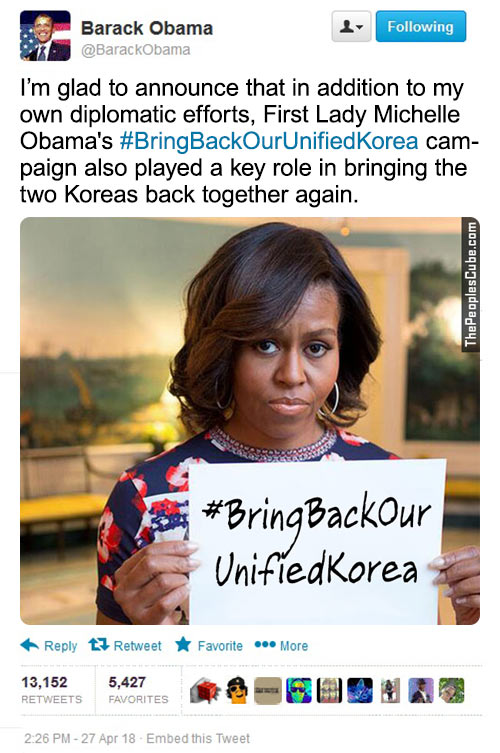 Korean war must continue: Hawaiian federal judge declares Trump's peace effort unconstitutional.
Kommissar Chernobylski noted:
Ending the Korean War is not just a war crime. It is a crime against humanity and an assault on the North Korean people's human rights. Starving and working people to death can prevent obesity and laziness, and most importantly, people prefer their lives to end uninterrupted by prosperity, eating, and freedom!

Trying to change the North Korean way of life is clearly a racist war against the North Korean people waged by that fascist Donald Trump who is obviously aiming to win the Nobel for achieving something, instead of nothing – like his predecessor, the Greatest President in US history who achieved nothing and for that reason is the Greatest President in US history.

Peace on the Korean Peninsula is American cultural appropriation and colonialism at its worst, just for profits to sell the people MacDonalds, Coke, Wranglers and iPhones! It imposes prosperity, health and happiness, and freedom to see the world and enjoy life, on a people who don't need it.

It is about that time to launch the rockets and level Tokyo, Rocket Man! The North Koreans must take back their nation before the electricity is restored, the lights go on, people watch peace at hand on large panel TVs, and it's too late to turn the clock back a half century.
EDITORS NOTE: This political satire by Chedoh originally appeared on The Peoples Cube. The featured image is of President Barack Obama delivering remarks to commemorate the 60th anniversary of the signing of the Armistice that ended the Korean War, at the Korean War Veterans Memorial in Washington, D.C., Saturday, July 27, 2013. (Official White House Photo by Amanda Lucidon)
This article is republished with permission from our friend Oleg Atbashian at The People's Cube.
---
Utah Standard News depends on the support of readers like you.
Good Journalism requires time, expertise, passion and money. We know you appreciate the coverage here. Please help us to continue as an alternative news website by becoming a subscriber or making a donation. To learn more about our subscription options or make a donation, click here.
To Advertise on UtahStandardNews.com, please contact us at: ed@utahstandardnews.com.
---